Nuts About... Crochet!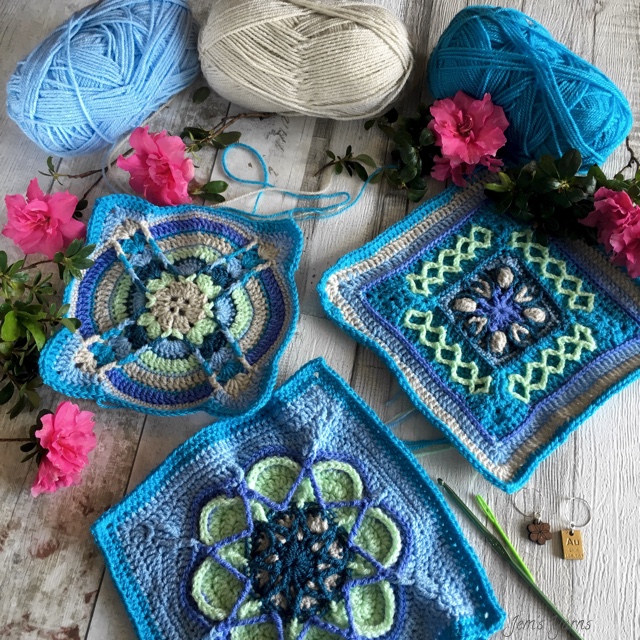 Three weeks ago, something very exciting began. Esther from It's all in a Nutshell launched her amazing Crochet-A-Long "Nuts About Squares" and the online crochet community went - well - nuts for her brilliant project. The anticipation had been huge, the wait so long, and finally we were able to get started on the first design of 12.
I had decided to use my firm yarn favourite of Stylecraft Special DK, as I knew how soft and gorgeous it already is and I didn't feel comfortable buying a new yarn from the Netherlands without already having had experience of it. One day I'm sure I'll get my hands on some Scheepjes yarn and maybe even be converted, but that day is some way in the future when I feel more confident in my crochet skills.
So I decided on following the Nuts about Sea colourway using the Special DK line, which as it turns out uses the same colour codes as Scheepjes anyway. So I looked at the colours assigned for the colour crafter yarn and used the same colour codes which gave me the following colours:
Colour
Yarn
A
4 x Turquoise
B
3 x Cloud Blue
C
2 x Bluebell
D
3 x Petrol
E
3 x Spring Green
F
2 x Parchment
Week one was a pattern by designer Dedri, of Sophie's Universe fame. I was delighted that we started with a designer I was already familiar with. The square took me quite a while, and by the time I had finished just one, it was time for the second.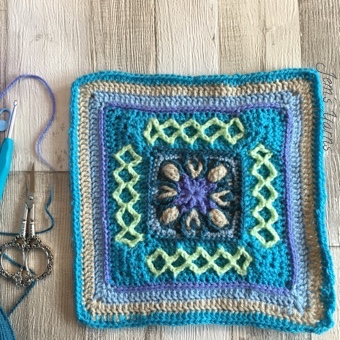 I enjoyed the second square as well, and learnt how to make front post double treble stitches to make up the star pattern. This one was by Helen Shrimpton and I enjoyed it just as much as the first. I think the front post double trebles pulled the square taught in places but hopefully this will be sorted when I block the squares.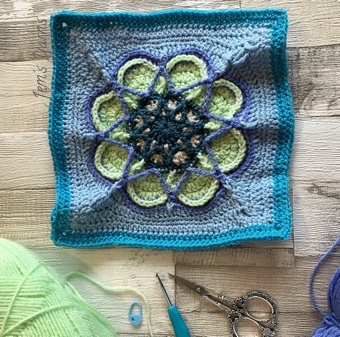 Week three was a welcome change of pace with a pattern from Polly Plum. I found it was an easier pattern to crochet, again honing those front post double treble stitches. I've made so many of those now I have managed to successfully make them without the top of the stitch being baggy.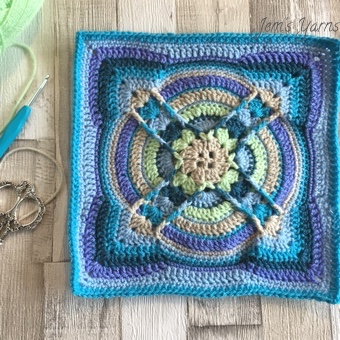 I am now on my way to starting week four, which is a square called Le Vesinet from designer Sigrun Hugoey and starts with nine individual circles. I've made up my first set of circles and have watched Esther's video showing how to join them. I'm not used to getting my yarn needle out so early in a pattern!